Persbericht: Make ICT Fair Ontbijt in het Europees
Parlement
Sensibiliseert over de schendingen van de
mensenrechten in de ICT-toeleveringsketens.
Op 1 oktober in de ochtend, hield het Make ICT Fair consortium een ontbijt-evenement in het Europees Parlement in Brussel, bijgewoond door ongeveer 30 deelnemers. 
Het evenement werd voorgezeten door het Oostenrijkse EU-Parlementslid Monika Vana van de Fractie European Greens/EFA en het Zweedse EU-Parlementslid Abir Al-Sahlani van Renew Europe. Het ontbijt werd georganiseerd om de aandacht te vestigen op problemen rond duurzaamheid en schendingen van de mensenrechten in de toeleveringsketen van ICT-producten. Daarnaast werd besproken welke rol Europarlementsleden kunnen spelen in het bevorderen van EU-beleid inzake mensenrechten, de Europese ontwikkelingsbanken en overheidsopdrachten.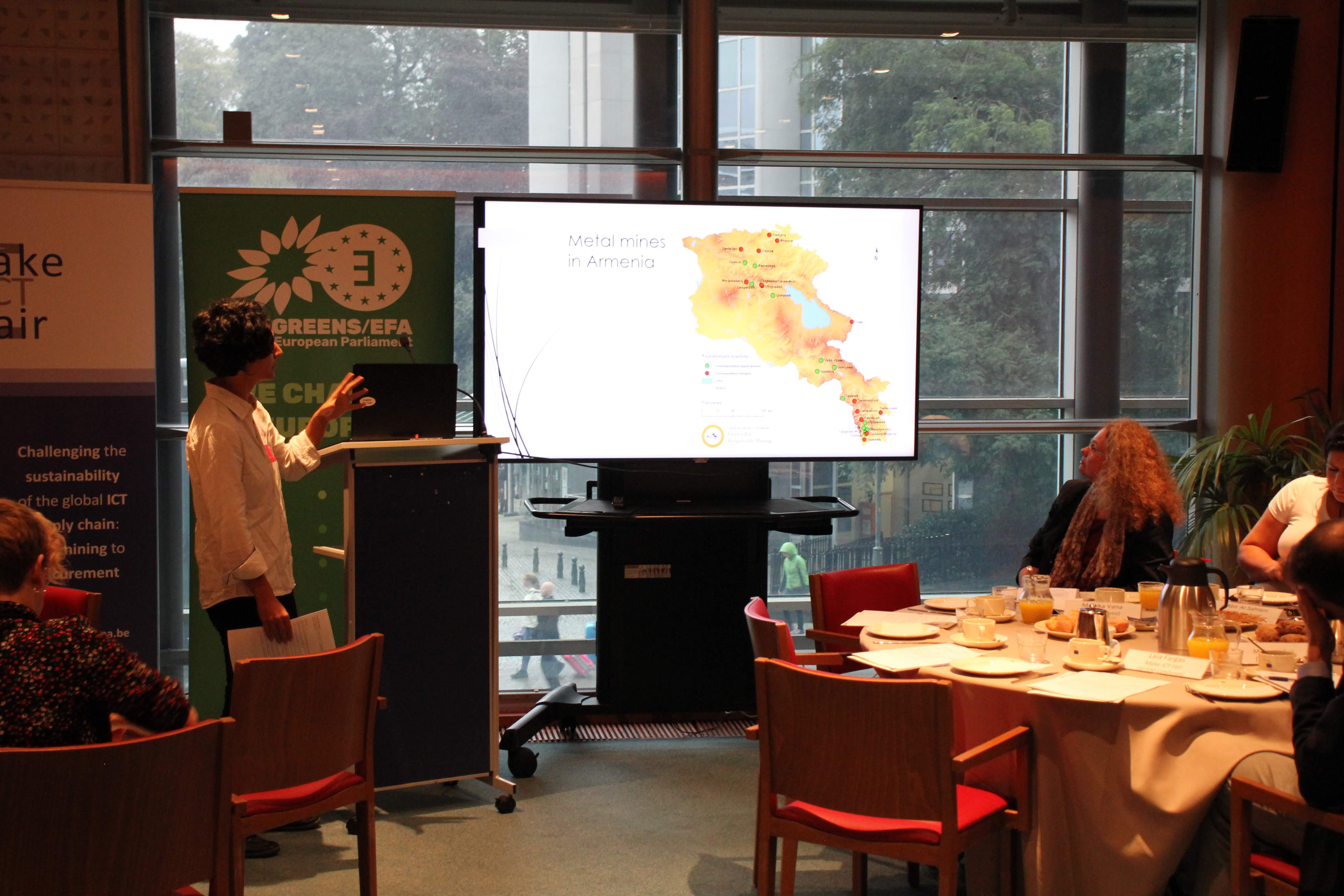 EU-Parlementslid Abir Al-Sahlani zei: "Onze samenleving heeft veel baat gehad bij de globalisering. Maar het is belangrijk om te sensibiliseren over de risico's voor mensenrechtenschendingen, die verbonden zijn aan de productie van een aantal van de populairste producten waarvan velen van ons gebruik maken – zoals smartphones. Mensen mogen nooit in gevaar komen als ze hun werk doen". 
Het ontbijt begon met een videogetuigenis van Pak Kin Wan, een medewerker van het Labour Education and Service Network in Hongkong, gericht aan leden van het Europees Parlement. Daarna was er een toespraak van Anna Shahnazaryan, die werkzaam is bij het Armeense Milieufront in Armenië en geconfronteerd wordt met mensenrechtenschendingen verbonden aan een gepland mijnbouwproject in haar land. Sprekers van SETEM, Bankwatch en Südwind gaven vervolgens lezingen over de prioritaire EU actiegebieden: 1) bedrijven en mensenrechten, 2) De rol van Europese ontwikkelingsbanken en 3) overheidsopdrachten. 
"De situatie van de werknemers in de ICT-leveringsketens vraagt onze onmiddellijke aandacht", aldus Monika Vana, EU-parlementslid. "Mensenrechten en arbeidsrechten worden dagelijks geschonden, naast de ernstige negatieve gevolgen voor het milieu in veel landen. Wij, als politici, hebben de verantwoordelijkheid en de mogelijkheid om efficiënt te handelen. Wij kunnen er mede voor zorgen dat er een wettelijk kader is dat bedrijven en financiële instellingen begeleidt bij het uitvoeren van een due diligence-onderzoek naar de mensenrechten, voordat zakelijke of financiële beslissingen worden genomen. Wij kunnen er ook voor zorgen dat het Europees Parlement hetzelfde toezicht uitoefent op zijn eigen ICT-aanbestedingen."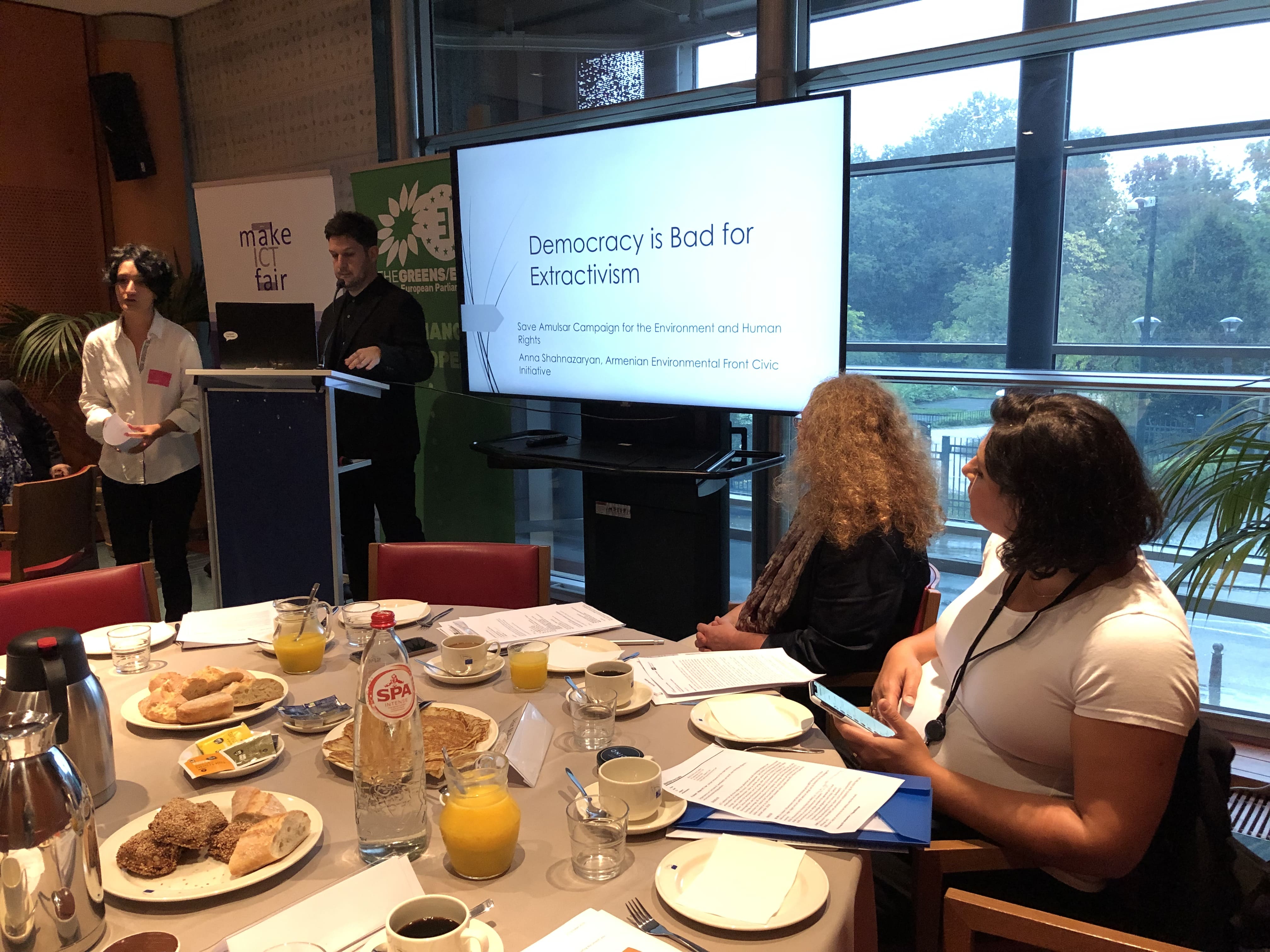 De organisaties die deel uitmaken van het Make ICT Fair consortium, hebben de EU- parlementsleden een lijst met uitgebreide case-studies overhandigd, evenals een informatiedocument met een overzicht van de belangrijkste acties die de EU- parlementsleden kunnen ondernemen om te zorgen voor de uitvoering van een eerlijk en duurzaam EU-beleid op de geïdentificeerde prioritaire gebieden. 
Deelnemers konden foto's en beelden uploaden met behulp van de hashtag #MakeICTFair en #fairelectronics op sociale media. 
Voor meer informatie kunt u contact opnemen met de directeur van het Fair Trade Advocacy Office, Sergi Corbalán, op corbalan@fairtrade-advocacy.org
Opmerkingen 
Make ICT Fair is een Europees project dat tot doel heeft het leven van werknemers en gemeenschappen die geconfronteerd worden met de negatieve effecten van de productie van ICT-apparaten zoals smartphones en laptops, te verbeteren. We richten ons op EU- burgers, openbare aanbesteders, ontwikkelingsbanken, besluitvormers en bedrijven om hun inkooppraktijken te verbeteren en het beleid op elkaar af te stemmen. De partners zijn: SETEM Catalunya, CATAPA, ICLEI, de Universiteit van Edinburgh, Le Monde Diplomatique, People & Planet, CEE Bankwatch, Swedwatch, Electronics Watch, Towards Sustainability Association en Südwind.